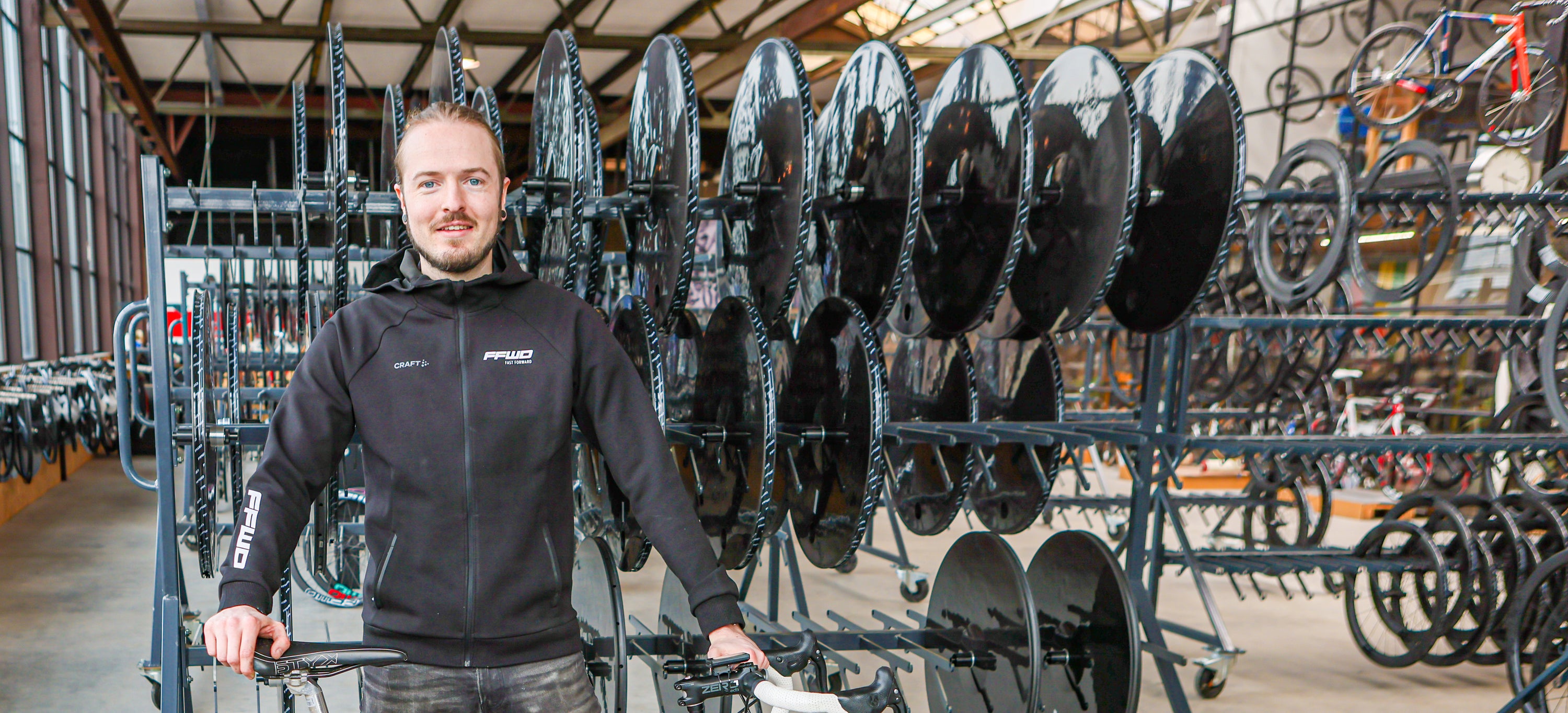 Douwe
MASTER OF WHEEL BUILDING
Honestly, this job has been my main inspiration to even start with cycling in the first place! Other than commuting every day on a city bike, you can find me in spandex shifting gears on a nice summer afternoon. I just love the fact that being on the road gets your head empty so fast.
Let's meet Douwe
Do you like to know more about Douwe and what puts him into action? In a short selection of twelve questions below we try to answer those questions for you.
My joy at FFWD
I came here by pure chance! I was looking for a job and this agency sent me to FFWD. They needed an operator for a new chapter in their timeline: machined wheel building! I came in with zero knowledge or interest incycling, but look at me three years, two bikes and one spandex suit later: I'm still enjoying it every day! The fact that everyone in this small but tight team is super excited about what we do gives me a lot of motivation and excitement.
My history in cycling
As a Dutchman I was basically born with a bicycle. All schools I went to were always at distance, and because my parents didn't want their kids to be lazy we always had to go by bicycle. My first experience on a racing bike though, was only after I started working at FFWD three years ago. My colleagues convinced me to go on the road and get confident, even if it only was to get a feel for the product we make. I've been enjoying riding ever since!
My bike(s)
I currently ride two bikes: one is a good old Gazelle Mondial Champion from '84 with an F6R wheelset, which I use to commute or visit friends, the other one is an old Eddy Merckx AMX-1 with F4R wheels in it that I use for the longer rides.
My favorite pair of wheels
That has got to be the RYOT series, in particular the RYOT55. I am a big fan of the new design!
My favorite place to ride
I live on the edge of Zwolle, and in just about five minutes I'm all outside in the nature. There's this road to a village close to Zwolle called Windesheim which I almost always start on.
My goals (in distance)
I just ride for fun without goals, so I think I will just go ahead and skip this question...
My favorite cyclist
To be honest, I never watch cycling races, so I have no idea which riders are currently in the peloton. But if I have to chooseone , I will pick my colleague Tino, our cycling-maniac.
My other interests
When I am not working, I love to play games with friends, whether it be online or around a table. You can almost always find me listening to music, and I like to pick up my bass guitar every once in a while! Oh, and I'm also kind of a vinyl collector.
My favorite movie
I think I have watched the 'LotR' trilogy over 20 times now, they never disappoint. Honorable mentions are 'The Shining', 'John Wick' and anything from Studio Ghibli.
My favorite music
I usually listen to metal and rock music, but you can also find me jamming out to some old school hip-hop or drum and bass as well! And everything between that, really.
My favorite podcast
I don't really listen to podcasts that often, though sometimes I put on the Joe Rogan Experience. Only if the guests are interesting, of course!
My social media
You can find me on Instagram, but you won't find a lot about cycling over there..