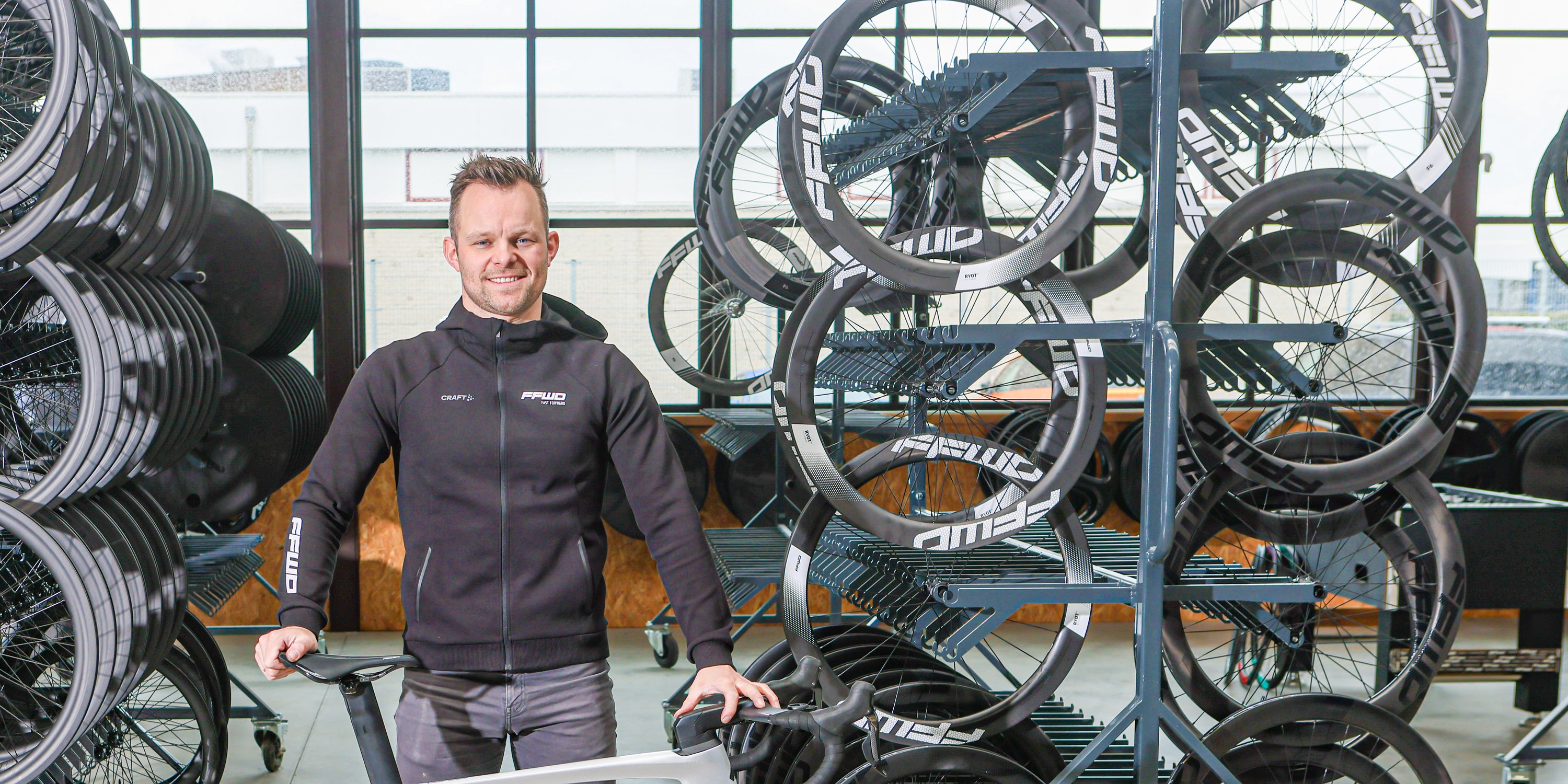 Niek Geerts
Master of development
I ride my bike for multiple reasons. First for being fit and healty, second is to free my mind. Last but not least nothing sounds better then a bicicyle that doesn't make any sounds but the chain running on the chainring and the wind passing the rims.
Let's meet Niek
Do you like to know more about Niek and what puts him into action? In a short selection of twelve questions below we try to answer those questions for you.
My joy at FFWD
I really love the technical aspect of wheels, rims and hubs. I think about wheels nearly every moment of the day. Beside that FFWD is a real nice company to work
for. All team members have a history in cycling and we share the love for our products.
My history in cycling
My cycling history started when I bought my first bike when is was at age 13, only started racing on my 19th. I have been racing for over 10 years. Have to admit i wasn't the most talented rider at the bunch but love to train and to ride my bike with having a goal.
My bike(s)
I've been riding Giant and Cannondale road bikes for many years, but recently I replaced them for a Specialized S-Works Venge with Dura-Ace di2 and a Tarmac SL7 with Ultegra di2. For riding single tracks and other offroad usage I have a full suspension Cannondale Scalpel-si.
My favorite pair of wheels
The all black RYOT55's, with skinwall tires of course. Just perfect wheels, especialy because I was the technical mastermind behind the development. This makes me extra proud I have to admit!
My favorite place to ride
Really love the Alps in France. Great climbs and epic sceneries. Riding over there makes me suffer but gives me joy at the same time.
My goals (in distance)
Would love to ride far over 10k a year, but with 2 young kids that is quite a challenge (nearly impossible). I think 5k is a more reasonable goal for the next couple of years.
My favorite cyclist
As a Dutchman I really can't name anyone different then Matthieu van der Poel. In past years I was a real fan of Tom Boonen, one of the most stylish cyclists ever in my opinion.
My other interests
Love to know all the ins and outs about the latest (bicycle) technologie, I can also spend hours in my garage working on one of my bikes or on some other procjects. Next to that I'm a proud father and love to spend time with my 2 kids.
My favorite movie
Saving Private Ryan is the first one that popup in my mind, such a intens and realistic movie. Makes me a greatfull man that we can live in such freedom every time I watch it.
My favorite music
I do not have a specific favorite music style, I love Coldplay and Martin Garrix but some hardstyle from now and then as well.
My favorite podcast
Not a huge fan of podcasts, but when I do listen a podcast it's most of the time about the stock market trading or real estate investings.
My social media
I'm not a real frequent user of social media at the moment. I do have a strava profile, but do not share any of my rides public. Culd also be because they are not worth sharing.. :-)