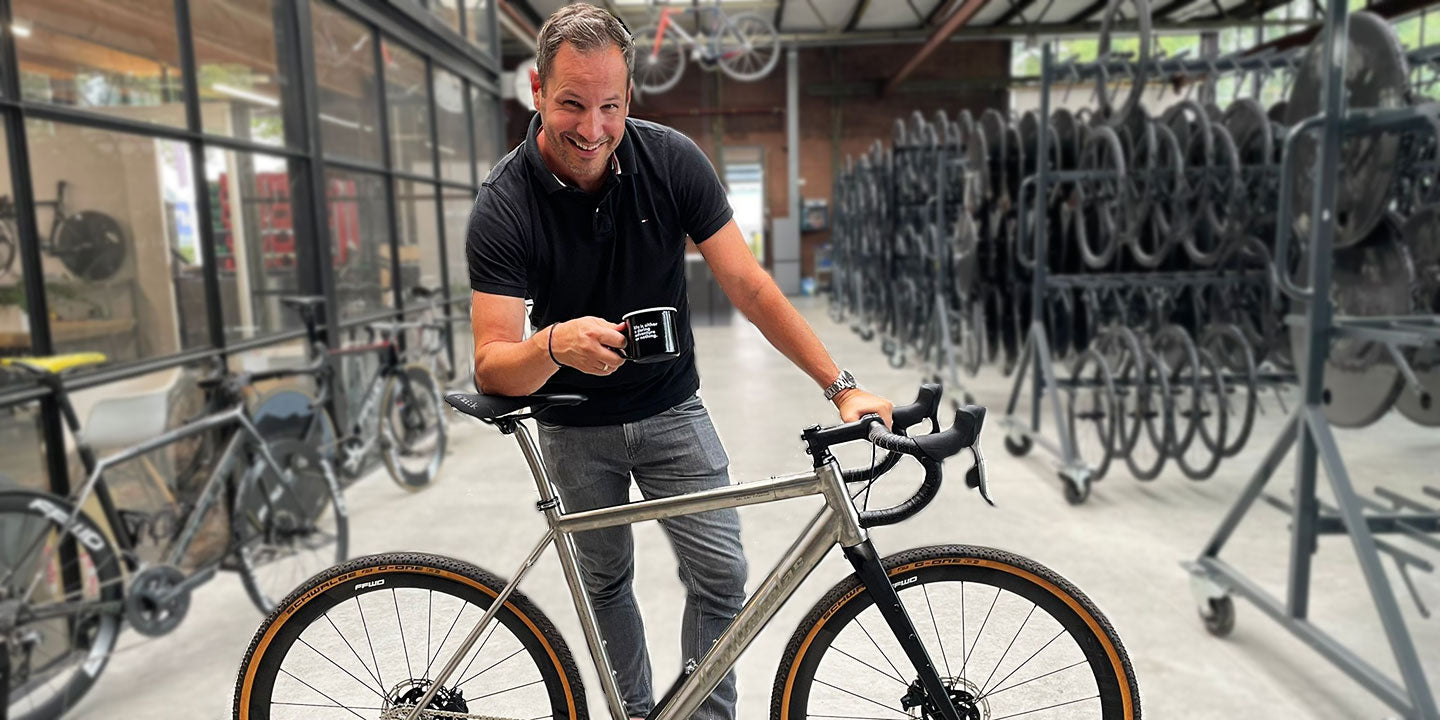 Rik van Putten
Master of marketing
Riding a race bike for almost 30 year and I have to be honest that it's not always easy for me to get on the bike. But I know that every ride will clear my head and I makes me enjoy exploring the world around me.
Let's meet Rik
Do you like to know more about Rik and what puts him into action? In a short selection of twelve questions below we try to answer those questions for you.
My joy at FFWD
Since my early years on the bike I said it: You can never have too many sets of wheels! Working with such great products and great people who share the same interests makes a big difference.
My history in cycling
As a kid I saw my dad going on his bike for a ride. He's a classical tourist rider and I wanted to join him. Starting at a cycling club at the age of 10 I did races for 15 years but with less talent I always had to work hard to be somehwere in top 10. Today my rides are just for fun and testing wheels :-)
My bike(s)
After many years on a Colnago, followed by many years on a Scott I now have my first disc brake bike from BMC. In winter and sometimes in summer I like to switch to my
American Eagle MTB for a nice offroad tour through the woods.
My favorite pair of wheels
No doubt the RYOT55 to make a statement! Also the perfect handling and cutting through the wind are characteristics I love.
My favorite place to ride
I love our Dutch home ground and still discouver roads I've not been over the past 30 years. I've been a lot to the French Alps as a kid and have amazing memories of riding those famous climbs. For work I've been multiple times to Mallorca and think that's for me the ultimate place to ride your bike.
My goals (in distance)
My 10.000 km's a year days are over, but I am trying to push myself to ride more km's each year.
My favorite cyclist
I like a character on the bike like Frank Vandenbroucke, Ludo Dierckxens, Pozzato, Cipollini.
My other interests
Spending time with the family! Love to watch movies, drink gin, a good piece of meat, beer and pizza. Besides food and drinks I fuel myself by listening to music a lot.
My favorite movie
Seen so many movies that it's hard for me to pick one. Mostly I watch Action and Thrillers. I'm also very much into the cycling adventure videos, so check our YouTube playlist 'Cycling Inspiration'.
My favorite music
Music is my fuel and can differ from many styles which all are played at different moments depending on my mood and the moment. From being raised with Dire Straits and classical music it can go completely the other direction into hardstyle.