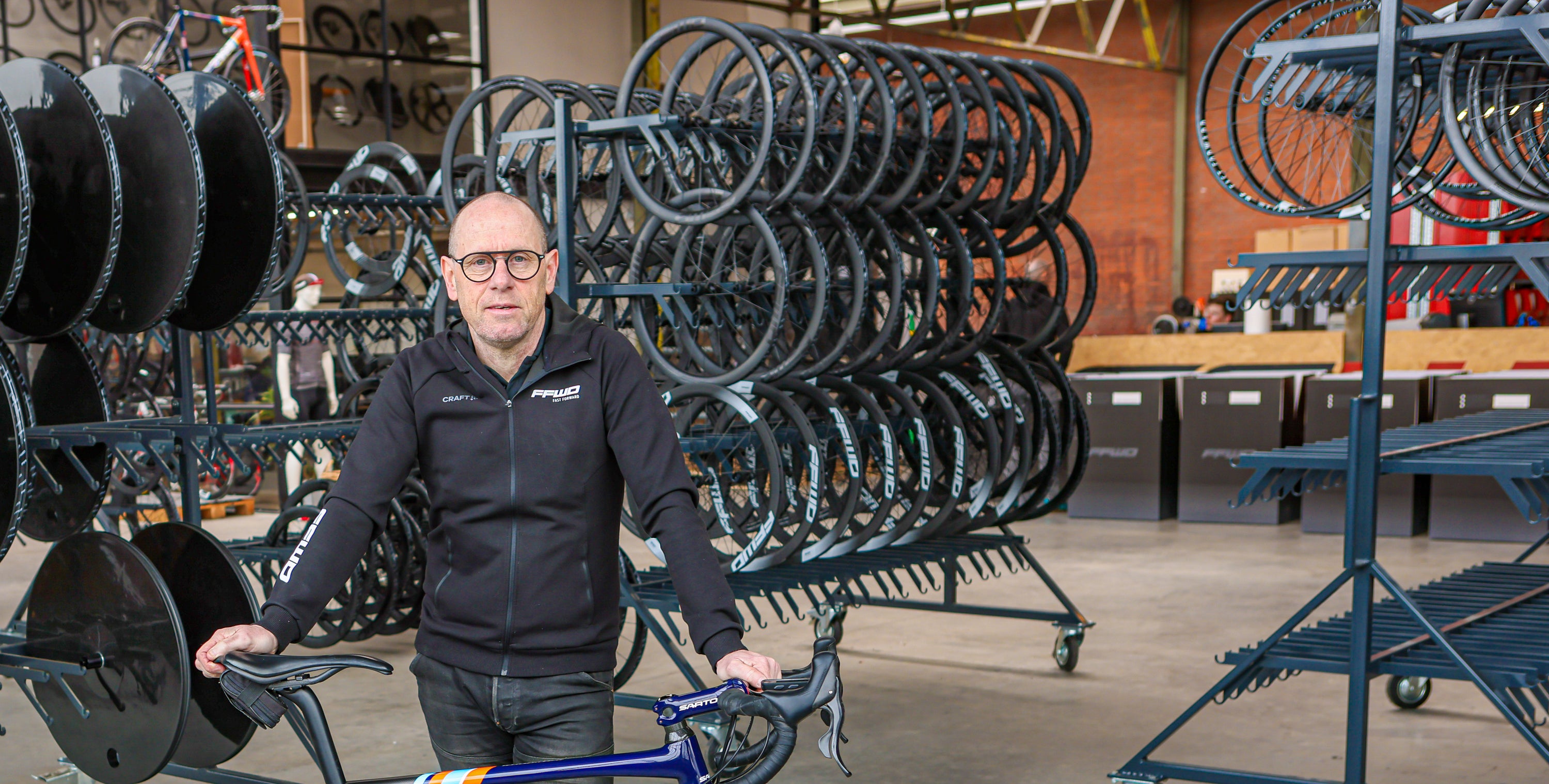 Tino Hazelhof
Master of logistics
I live by the quote; "When there is a will there's a way" with my own addition "If there is a way I want to ride my bicycle there!" I have been riding my whole life, so there's not much else I can (or want to) do.
Let's meet Tino
Do you like to know more about Tino and what puts him into action? In a short selection of twelve questions below we try to answer those questions for you.
My joy at FFWD
Being able to work with such a beautiful product within a sport that is a big part of my life doesn't feel like work. This is pure passion!
My history in cycling
I started cycling competition when I was seven years old. I raced as a national amateur until I was 30. Since I stopped competing I still ride my bike (almost) daily.
My bike(s)
In summertime I ride almost all my miles on a Sarto Dynamica DB with my favorite wheels: the RAW. My offroad bike is a Cannondale MTB and in wintertime I ride a Focus DB to test hubs.
My favorite pair of wheels
The RAW for sure! It has something extra due to the inmolded logo, internal nipples and the DT180 hubs with ceramic bearings. An added bonus I think is that you can get all of this for a real nice price compared to many competitors!
My favorite place to ride
Actually I enjoy riding around my hometown (Kampen, NL) the most, with my local club. Once I went mountainbiking in Moab (Utah, US) which was really cool and would definitely like to go back there.
My goals (in distance)
I ride my bike year-round and always achieve a total around 15.000 kilometers annually. These miles are about 75% on road, and 25% on MTB.
My favorite cyclist
I really like classics riders like Servais Knaven and Niki Terpstra. Also, almost all riders who can win a bunch sprint.
My other interests
My wife and my two daughters are everything to me. Other than that, basically everything in my life revolves around cycling.
My favorite movie
I cannot name a specific movie that stands out for me. Mostly i like to watch action movies and thriller series. I also often watch movie and series tips given to me by my colleagues.
My favorite music
I like heavy metal the most, like Rammstein and Metallica for example! But I can also really enjoy U2 and Brennan Heart.