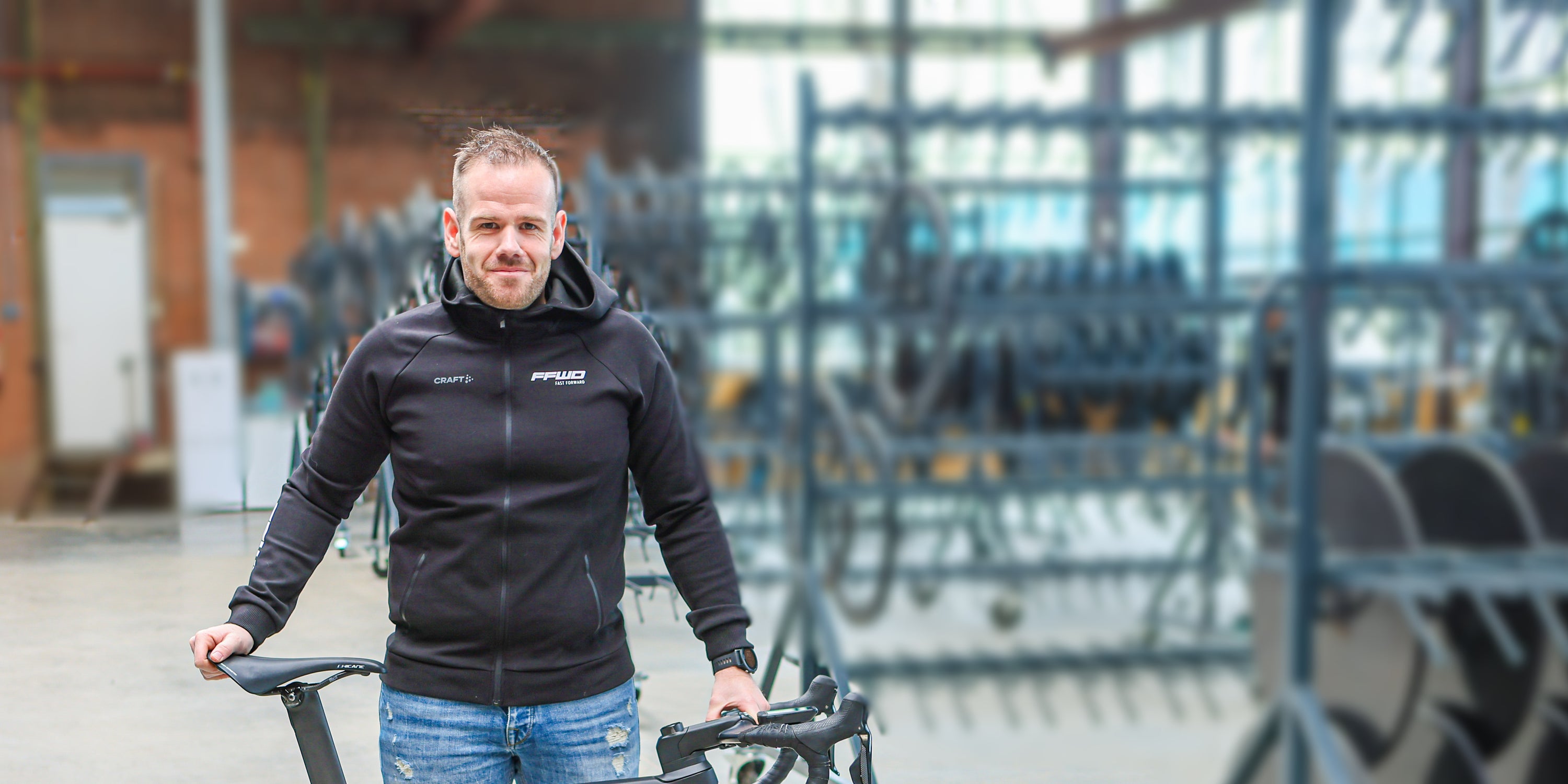 Ernst-Jan Dekker
Master of product(ion)
Biggest reason is to enjoy being outside but I also like the competition element when riding with friends. Of course it also helps to stay in shape!
Let's meet Ernst-Jan
Do you like to know more about Ernst-Jan and what puts him into action? In a short selection of twelve questions below we try to answer those questions for you.
My joy at FFWD
The environment at FFWD is very inspiring and gives me a feeiing of freedom, fun and the joy of working with a nice and super close team.
My history in cycling
I'm super proud to call myself an IronMan by finishing this race in Maastricht (NL) in 2017. Besides this I have done La Marmotte twice (FR), the Maratona des Dolomites (IT) and the Amstel Gold Race (NL) three times!
My bike(s)
Currently I am riding a Specialized Venge on the road, and a FFWD MTB offroad occasionally. Also own a Ridley Dean TT bike.
My favorite pair of wheels
My current pair of wheels are the RYOT33, a great allrounder with a very nice handling in all conditions (Dutch wind proof)!
My favorite place to ride
I have been cycling in many places around Europe and in general I like to ride in the mountains. A special place for me is Italian region Tuscany, around Lucca. But I also like the the Dutch hills in Limburg!
My goals (in distance)
I'm a happy man when I can cross the 4000 km every year!
My favorite cyclist
A few of my favirite riders are Mathieu van der Poel and Vicenzo Niballi. I like combative riders with a punch the most!
My other interests
In my spare time I like doing maintenance at road and MTB bikes for friends and family. I'm also a big fan of traveling to beautiful destinations like Bali, Australia, Mexico...
My favorite movie
I don't realy have a favorite movie because I don't watch movies a lot. I'm more a fan of series like 'Narcos', 'Breaking Bad' or great documentaries like 'The Last Dance' about Michael Jordan.
My favorite music
The music I like is in a very wide range. There is almost no music I don't like, you can hit by surprise!